The Arts are a big part of my life. They played an integral role in my upbringing, honing nascent talents and skills. I come from a typical family where we learn to sing just as soon as we can talk, dance just after or before we walk. I was introduced to the Arts and the techniques of Arts early on. When I took these hobbies like dance and music, I did so with the intention of finding my extra-curricular persona. Little did I know that these serious hobbies would also go on to shape my identity.
Today, I am the founder of Snehadhara Foundation, an educationist, a social entrepreneur, an Arts Based Therapy Practitioner and an Arts Practices for Inclusion (API) Educator with over two decade's experience in teaching a diverse population of children and adults. None of which would've been plausible without the strong foundation in the arts that I've undergone. And by that, I do not mean certificate courses or specializations. The arts are not just to be learnt. They are to be experienced. They are a way of life. My love for music comes from a very musically-rich maternal family. A grandmother who was a radio singer, a mother who is a classically-trained vocalist, extended family members who could've pretty much started their own music collective or band if they consolidated their skills sets. Dance comes to me from my paternal side with rhythm in my very being and expression.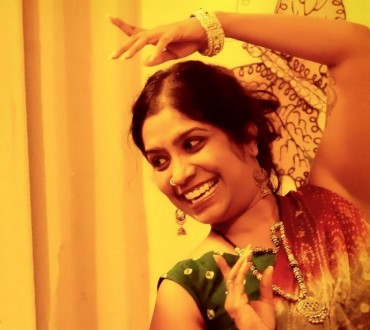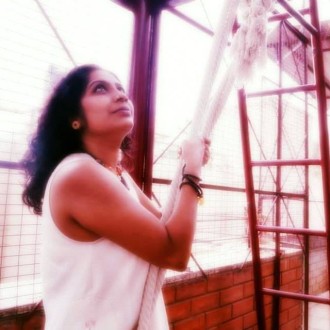 However my beginnings with experiencing the arts as therapy and healing began a few years ago, experiences of my life, the journey of and with my life partner, the unlearnings with my two daughters all of this seemed to find its rhythm in the untold stories these children created each day, in the melody of a calling, in the tempo of the dance that prompted me to break barriers and look beyond the conventional. This marked the beginning of looking at learning differently. I was not the model child but a gifted one who has dabbled with a gamut of subjects, each enriching me further and grooming me for what lay ahead.  My strength lies in my belief that I can reach out to the good in everyone.
When I started working with children with disabilities I was much clueless on what any of these names like Autism, ADHD, PDD, LD meant. My knowledge of this would have been as much as I could understand from movies like a  I am Sam , Taaze Zameen Par or My name is Khan. Guess what helped me the most is not knowing what they meant as the starting point for me was from not data I read, studied or collected, but from where each child who walked into my life led me.
And that is the vision with which I set up Snehadhara Foundation. Snehadhara's inception in 2012 was aimed at looking at innovatively using Arts Based Therapy (ABT) for learning. The motivation was to explore a significant train of thought from an action project to a long-term sustainable practice. The pioneering attempt was to look at interventions with an integrated, holistic approach to address the various learning, therapeutic and social inclusion needs of children/adults across special needs groups.
My journey has been to look at pioneering effective ways to bridge developmental deficits in the space of education, and weave inclusion into the mainstream world. I have always been clear about wanting to spend time with children with special needs, learn of a world that does not discriminate, a people who love you for who you are and not what you do; who are not quick to judge, but rather quick to embrace.

Your every inhale is like the whisper of a pen over paper. Your every smile is a splash of color on a canvas, and each endeavor is like a spin of the potter's wheel. You are an artist and your life is your art. -Christen Rodgers
While Snehadhara Foundation is the culmination of the drive to fulfil that belief, it is also something that mirrors my personal life. My choice for life partner and our combined parenting skills, reflect the notion that equanimity and the love for the arts can together change the world. As a family we strive towards making our lives reflect our beliefs and efforts in the choices that we make for ourselves and the cause we espouse together.
Every child that I have worked with is a story teller, who has a story of solutions, a story of possibilities, and a story of empowerment. Through the past decade and a half, I have mentored and trained educators, special educators, therapists, teachers across organisations in India. Empathy, Compassion and the Arts are all we need to make the world not just a better place, but shape individuals who will but pay it forward.
To create is to live. And to live is to create.
That is the magic of the Arts. 
You don't need to be a celebrity; you need to be a celebrator of life.
I was introduced to the Arts and the techniques of Arts early on. While working with children in learning centres and with youth in colleges, I found the strength of integrating creative processes into learning. However my beginnings with experiencing the arts as therapy and healing began a few years ago; experiences of my life, my work with various groups, my interactions with parents of children prompted me to start on this journey of creating empathetic learning spaces.

Experience is not what happens to you; it's what you do with what happens to you. -Aldous Huxley
I believe the combination of love and empathy is the only unifying and empowering denominator and one cannot ignore its potential to bring about balance and deeper meaning to human existence.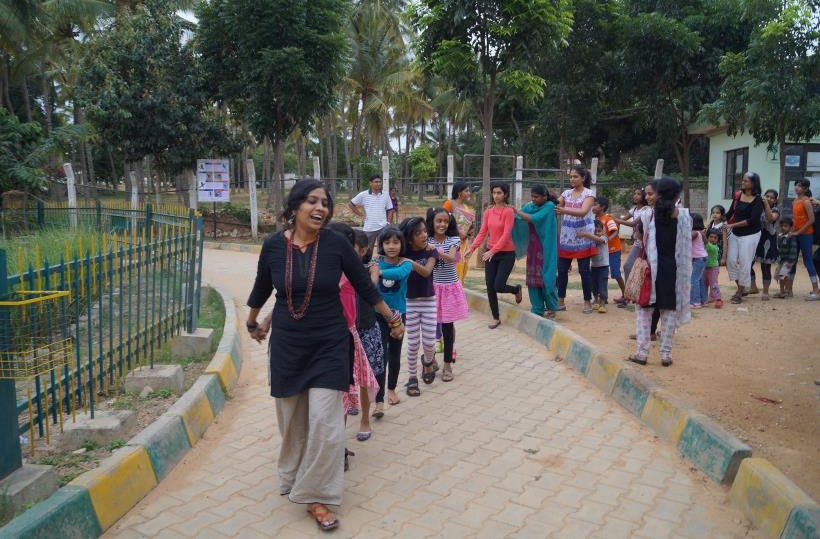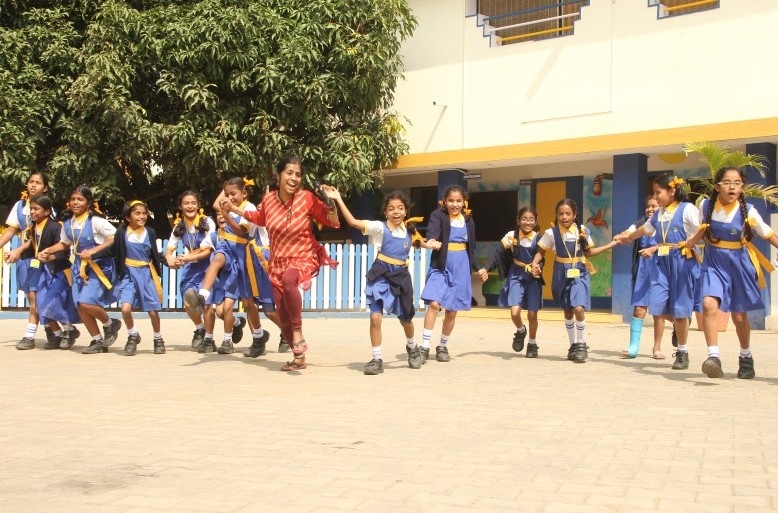 The pioneering attempt with Snehadhara was to look at interventions with an integrated, holistic approach to address the various learning, therapeutic and social inclusion needs of children/adults across special needs groups. This has got me to pioneer the first ever Arts Practices for Inclusion programme in India. Over the past few years Snehadhara has worked with around 1000 children through direct and weekly interventions, with over 50000 children through indirect interventions in schools and other receptive environments and trained over 2000 professionals in about 400 organisations across the country. Snehadhara's international journey has carried its best practices to Canada, Argentina, Brazil, Qatar and Nepal. Snehadhara Foundation is one among the 6 global progressive institutions as a LEAPS (Leading Educational Advancement through Progressive Schools) partner school along with Lumiar Foundation, South America and UK; Hub School 21, France; NuVu, US; Kingsland Pre-Prep, UK and Agora School, Netherlands.
I am grateful to my mentors and my teachers, as well as the recognitions and accolades, which we've received, that has helped people to take note of what I do and what we can all do together.
The awards and accolades to my credit is a testimony of the work been recognized in various platforms internationally.
To mention a few:
Awardee of the Millennium Alliance Global Award 2020 which takes the innovation 'Kala Samvaad - Arts Practices for Inclusion' to Nepal.
Been awarded the 2nd Creative Art Therapy Award 2020 in recognition of her outstanding contribution to the field of Art Therapy by the Sancheti Healthcare Academy as a recognition to the silent heroes who have done exemplary and exceptional work in the field of Creative Art Therapies.
Been an ACTIVATEE speaker at the 45th International Association for Experiential Education (AEE) Conference in Montreal, 2017 and has also presented at the prestigious TEDx platform.
Recipient of the NGO Leadership Awards 2017 and awarded as one among the 50 Most Impactful Social Innovators (Global Listing) by the World CSR Congress and Awards.
One among two artists to be awarded the Artist's Grant 2014 for the 'Art in Education Program' by the India Foundation for the Arts and the Artist's Grant 2014 by India Foundation for the Arts.
Recognized by Global Ethics Forum and Indian Institute of Management, for working towards establishing an impartial and fair world.
My story is a story of celebrating a discovery, of what happens when we look beyond inability. Working with Arts didn't just 'solve' my problem; it made me sense the potential for transformative change and change for ALL.
Unless diversity is welcomed, and relationships are consciously nurtured, there will be little change in the educational experience for children. Of course, policy and legislative change is desirable, specialist skills can be useful and a greater financial investment in schools would be excellent, but making the correct choices that are effective is critical.
I have dedicated my life to giving people a chance at an even playing field. It is an ongoing process but for me, even shattering the biases of one person through my efforts is an achievement. I don't want to change the world by myself. I want the world to join me in my efforts because I believe compassion exists in each one of us who make this society. Inclusion for me is about everyone.
If building an inclusive society is to be sincere and productive, it has to be done between stakeholders who demonstrate mutual respect, and be capable of freely engaging; partners with a clear sense of others, but also of themselves. It seems to me that this sort of capacity or capability is also at the core of inclusion. If a society is inclusive, it is in the very least a society in which children can become all that they can be.
I am set out to create an ecosystem of people who will drivers of inclusion. As an individual working in the field of education, as an organisation, as a special needs adult/parent, as an institution, as a corporate house, as an NGO, as a policy maker, each one of us has a role to play in building this ecosystem. The enormity of the challenge cannot stop one from addressing it.
I believe that each one of us has a role to play in society and there is a change maker in every one of us. By respecting diversity, we harness the potential residing in societal diversity. That is a victory like none other.
Waves lapping on the shore.
Skies on fire at sunset.
Old men dancing on the streets.
Paradox and possibility.
Sense and sensibility.
Cold logic and half truth.
Final steps and first impressions.
Fools and fine intelligence.
Chaos and clean horizons.
Vague notions and concrete certainty.
Optimism in the face of adversity.
I'm alive, I believe in everything
I'm alive, I believe in it all.
– Lesley Choyce