Snehadhara Foundation (SF) is a registered non-profit organisation based in Bangalore. The pioneers of Arts Practices for Inclusion, Snehadhara Foundation believes that inclusion is the bedrock of a more compassionate and empathetic society. SF advocates inclusionary spaces where arts practices form the primary methodology of teaching and learning. SF aims to create an environment which welcomes, acknowledges, affirms and celebrates the value of all learners.
The major thematic area of the organisation's work is service based, community based and policy advocacy. We directly work with the beneficiaries in our Direct Care space and also in other organisations working with children at risk. The service delivery model also trains educators, practitioners, psychologists across schools and learning spaces in the country and building lifelong partnerships by introducing corporate citizens to the goals of a socially inclusive society. We have crafted three initiatives in pursuit of this goal: Direct Care, impART and Prajnadhara.
We have crafted three initiatives in pursuit of this goal: Direct Care, impART and Prajnadhara.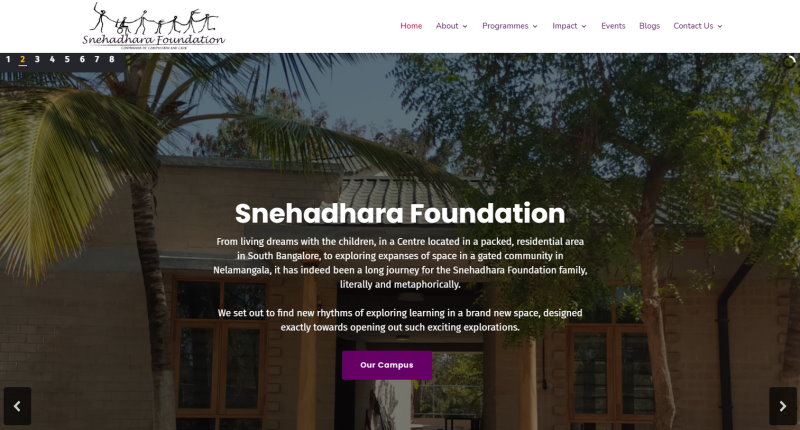 In my years of working with children and adults, I found the strength of integrating creative processes into learning. This culminated in the Direct Care space of Snehadhara Foundation, the first centre in the country that uses Arts Based Therapy and Arts Practices for Inclusion as the primary methodology to work with children and adults with special needs.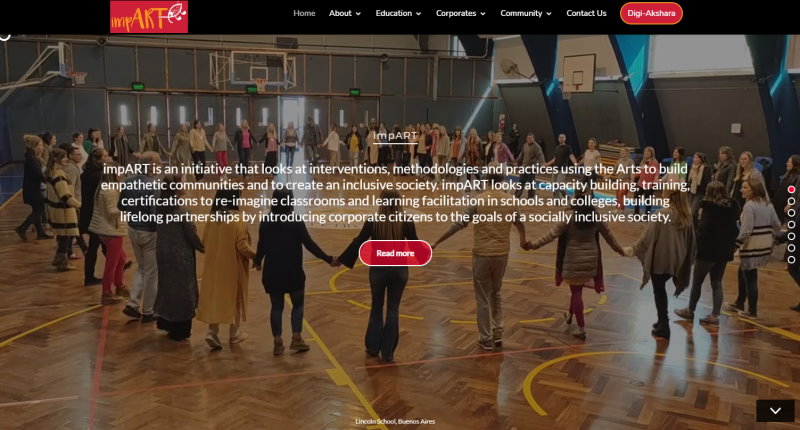 impART is an initiative that looks at interventions, methodologies and practices using the Arts to build empathetic communities and to create an inclusive society. impART looks at capacity building, training, certifications and works with over 20 organisations to reform education and learning practices by re-imagining learning facilitation in classrooms.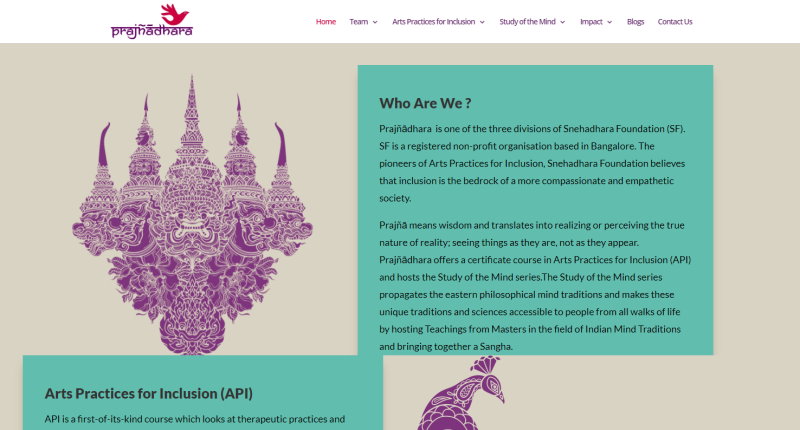 Prajñādhara offers a certificate course in Arts Practices for Inclusion (API) and hosts the Study of the Mind series. This series propagates the eastern philosophical mind traditions and makes these unique traditions and sciences accessible to people from all walks of life by hosting Teachings from Masters in the field of Indian Mind Traditions and bringing together a Sangha.